Case studies
01 September 2023
Révision d'un moteur CC 540 KW de laminoir
Nombre d'heures projet : 17 heures
Nombre de techniciens : 4
Attente client
Un acteur majeur sur les marchés de l'acier inoxydable, de l'acier électrique et des aciers spéciaux a fait appel à nos experts dans le cadre de son arrêt d'été pour réviser un moteur CC stratégique de 540KW d'un de ses laminoirs.
Travaux réalisés
L'installation de notre client a une particularité : les disques de frein et l'accouplement sont frettés sur l'arbre du moteur. Celui-ci pouvant être démonté uniquement par une pompe hydraulique haute pression 1500 tours.
Après réception du moteur en atelier, nos experts constatent que le montage de cet ensemble n'a pas été réalisé correctement ce qui rend impossible le démontage. Nous proposons donc à notre client de couper l'arbre et de réaliser une nouvelle pièce en un temps record afin de procéder à sa révision et de maintenir le redémarrage de l'usine à la date prévue.
Notre réseau de partenaires nous a permis de trouver la matière première (rond de 700mm de diamètre x 250mm d'épaisseur) et de réaliser la pièce en à peine 5 jours. Ainsi, nos experts ont pu procéder à la révision complète du moteur :
Extraction de l'accouplement
Démontage du produit
Contrôle électrique, onde de choc induit
Contrôle mécanique
Tournage du collecteur, fraisage des micas, cassage des angles
Levage – Étuvage moteur
Mise en peinture anti-flash
Mise en place des roulements et des balais neufs
Remontage
Essais à vide + rodage des balais
Essais pleine charge avec rupture
Notre client étant extrêmement satisfait de notre prestation, il nous confie la révision d'un second moteur identique lors de son prochain arrêt.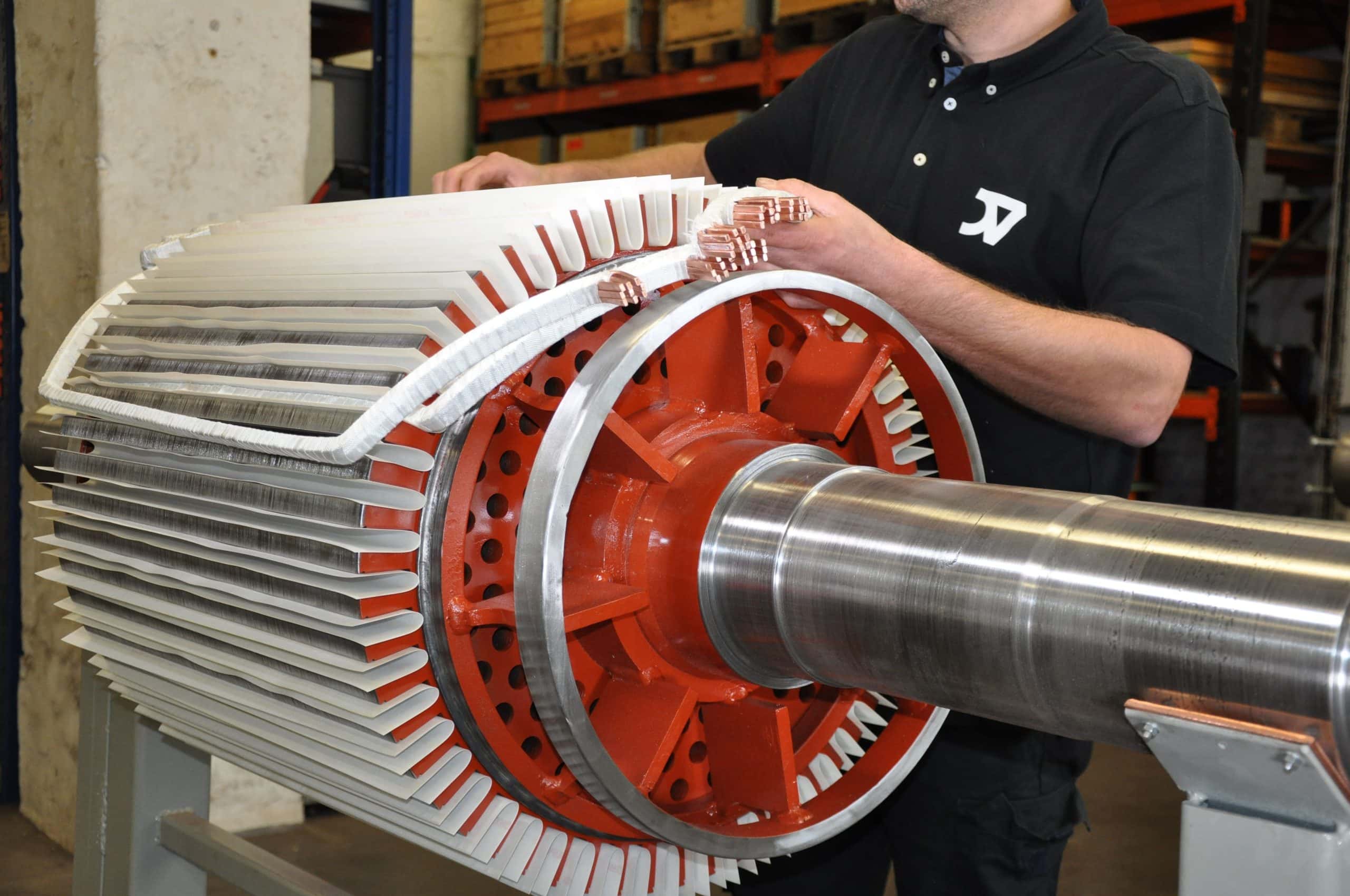 Travail des experts DV GROUP sur Moteur CC
Gains et bénéfices client
Fiabilité : un moteur CC stratégique 540KW fiabilisé
Rapidité : respect du délai serré (15 jours)
Économie : coût faible par rapport à une solution neuve
Instauration d'un climat de confiance : échanges fréquents, pérennes et accompagnement d'un interlocuteur dédié DV GROUP
Expertise
We provide you with engineering, maintenance and control solutions based on our knowledge of your processes.
Case studies
You may also be interested in