Case studies
01 September 2023
Moteur Siemens 450 KW avec mode de refroidissement à eau
Nombre d'heures projet : 143 heures
Nombre de techniciens : 3
Attente client
Notre client, l'un des fabricants leaders en Europe de plaques alvéolaires en polypropylène a fait appel à nos experts pour intervenir sur un moteur d'extrudeuse de 450 KW de la ligne principale. En effet, après avoir constaté une surchauffe sur celui-ci, notre client souhaite le faire réviser en urgence avant la panne irréparable étant donné que le délai d'approvisionnement d'un moteur neuf est de 12 semaines.
Solution DV GROUP
Satisfait de nos précédentes collaborations, il nous demande de traiter le moteur en urgence afin de limiter au maximum l'arrêt et ainsi les pertes. Les experts de nos agences électromécaniques de Saint-Augustin (Clarques) et Grigny se sont mobilisés non-stop durant 12 jours afin de mener à bien cette opération et ainsi satisfaire notre client.
Travaux réalisés
Solution technique DV GROUP
Récupération du matériel en urgence
Prise en charge du matériel dans notre atelier de Clarques pour expertise en urgence
Révision et bobinage du moteur en urgence dans notre atelier de Grigny
Réparation du système de refroidissement
Repose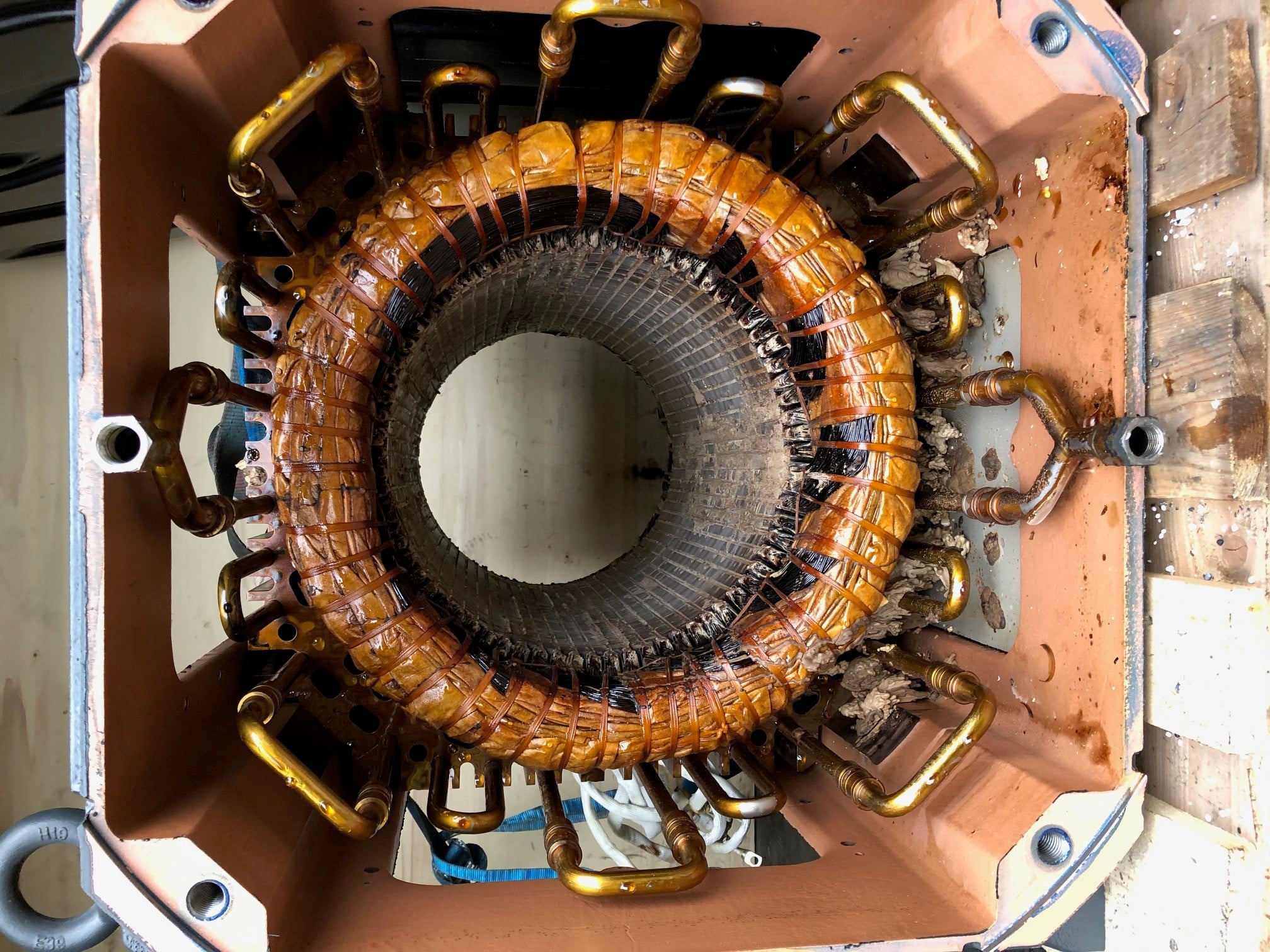 Moteur Siemens 450 KW en réparation dans nos ateliers
Gains et bénéfices client
Solution clé en main DV GROUP : prise en charge totale, de la récupération du matériel jusqu'à sa repose
Rapidité : moteur traité en 12 jours contrairement à 12 semaines pour une solution neuve
Économie : coût faible par rapport à une solution neuve
Instauration d'un climat de confiance : échanges fréquents, pérennes et accompagnement d'un interlocuteur dédié DV GROUP
Expertise
We provide you with engineering, maintenance and control solutions based on our knowledge of your processes.
Case studies
You may also be interested in