Case studies
29 August 2023
Contrôle par onde de choc de 46 moteurs asynchrones de 7,5KW (400V) à 750KW (5000V)
Nombre d'heures projet : 75 heures
Durée du projet : 2 interventions sur 2 ans
Attente client
Notre client, acteur majeur de la chimie mondiale et plus particulièrement de la chimie de spécialité et des matériaux de performance, a choisi de construire un nouveau hall de stockage pour ses moteurs asynchrones. En effet, le hall actuel est vétuste et présente de mauvaises conditions de stockage. Afin d'être totalement serein sur l'état des moteurs avant le déménagement et ainsi fiabiliser la production, il est impératif de procéder à leur contrôle électrique.
Solution DV GROUP
Pour atteindre cet objectif, nous préconisons à notre client un contrôle par onde de choc des moteurs afin d'obtenir une vision précise de leur état électrique. Ainsi, nos experts ont procédé en deux temps au contrôle des 46 moteurs asynchrones de 7,5KW (400V) à 750KW (5000V).
Travaux réalisés
Solution technique DV GROUP
Pour réaliser les tests par onde de choc, nos experts utilisent 2 outils :
l'AWA IV pour les moteurs basses tensions (test jusqu'à 4 000V)
le D12R pour les moteurs moyennes tensions (test jusqu'à 12 000V)
Ces 2 outils, également appelés analyseurs Baker, permettent d'analyser les bobinages sur moteurs statiques. En effet, ils intègrent un large éventail de tests électriques qui répondent aux normes de haute qualité. Grâce à leurs logiciels embarqués, les systèmes permettent d'automatiser les séquences de tests, de suivre et de tracer l'ensemble des résultats d'une installation et ce, directement lors du contrôle. Ainsi en fonction des observations, nos experts peuvent adapter les tests au fur et à mesure de l'intervention et donc être encore plus précis.
Plusieurs tests sont effectués :
Mesure de résistance du bobinage (Balance Resistance test or L-L) pour vérifier l'équilibre des phases
Mesure de la résistance d'isolement (Megohm test) pour vérifier la qualité de l'isolant
Index de polarisation (Polarization Index test) pour vérifier le vieillissement et la pollution de l'isolant
Test de la rigidité diélectrique par échelon DC (DC Hipot test) pour contrôler la qualité de l'isolant
Test impulsion ou test de choc (SURGE Test & Pulse to Pulse) qui permet de détecter :

L'état du bobinage
Un défaut d'isolement entre spire, phases et enroulement
Une défaillance sur une bobine
Suite à l'intervention, nos experts procèdent à l'analyse des données récoltées et constatent que 4 moteurs présentent des défauts :
2 moteurs révèlent un niveau d'isolement du bobinage insuffisant dû à l'humidité environnante. Nous préconisons à notre client une révision des moteurs avec lavage et étuvage ou un suivi régulier pour anticiper les casses.
2 moteurs sont dégradés et nécessitent une intervention avant utilisation : l'un présente une pollution importante et l'autre un mauvais état général du bobinage. Ainsi, nous préconisons à notre client un bobinage complet de ces 2 produits.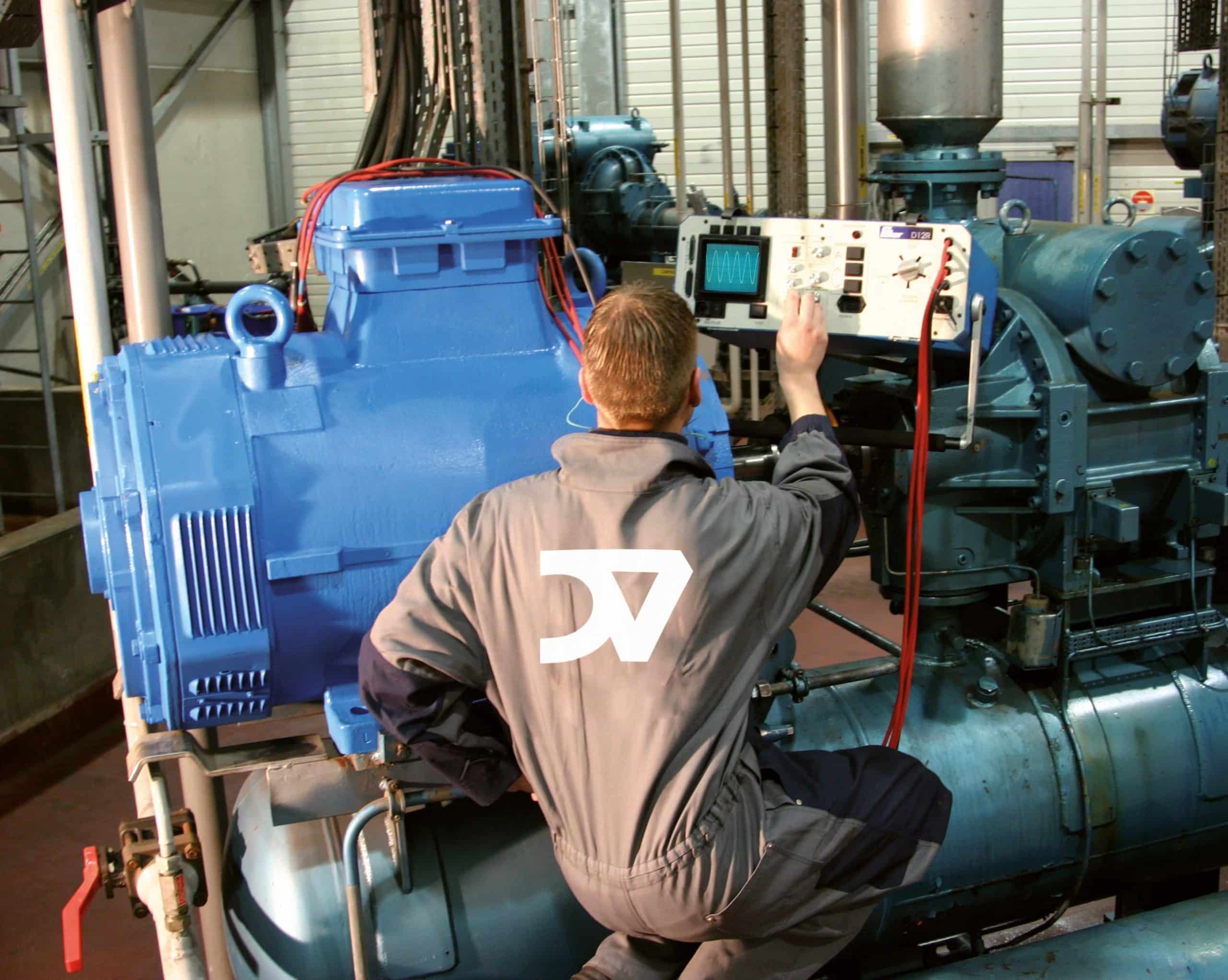 Réalisation des tests par onde de choc par les experts DV GROUP
Gains et bénéfices client
Moteurs fiabilisés (électrique)
Gain économique
Instauration d'un climat de confiance : échanges fréquents, pérennes et accompagnement d'un interlocuteur dédié DV GROUP
Expertise
We provide you with engineering, maintenance and control solutions based on our knowledge of your processes.
Case studies
You may also be interested in