Case studies
29 August 2023
Monitoring vibratoire réducteur polymériseur
Nombre d'heures projet : 30 heures
Durée du projet : Location depuis décembre 2021
Attente client
Le département Contrôle prédictif a signé un contrat de trois ans, pour le suivi vibratoire du parc machines du secteur « Polybatch » (à hauteur de 4 contrôles par an).Les mesures vibratoires ont démontré que le réducteur du polymériseur présente des signes de faiblesses. Cet équipement est essentiel pour la production, toute l'unité risquerait d'être à l'arrêt en cas de défaillance. De plus, le mode de production de notre client impose un fonctionnement 24h/24 et 7j/7, avec uniquement un arrêt de maintenance tous les deux ans. Il est donc impossible pour lui de prévoir un arrêt spécifiquement pour changer le réducteur polymériseur. Il souhaite donc mettre en place une solution de mesure en continu, sur ce réducteur, afin d'être prévenu si la dégradation vient à s'accélérer.
Solution DV GROUP
Nous avons proposé à notre client de mettre en place un suivi par capteurs Phantom. Cela permettra de suivre en continu le matériel, et de prévenir notre client suffisamment en avance si la dégradation du réducteur devient trop importante. Cela lui permettra également d'organiser un arrêt extraordinaire pour remplacer le réducteur et d'éviter une panne qui rendrait inutilisable l'intégralité du "batch" en cours de production.
Zoom Technique : Matériel mis en oeuvre
Solution phantom : 4 capteurs de vibration triaxe, une centrale d'acquisition déportées à l'extérieur du bâtiment car zone ATEX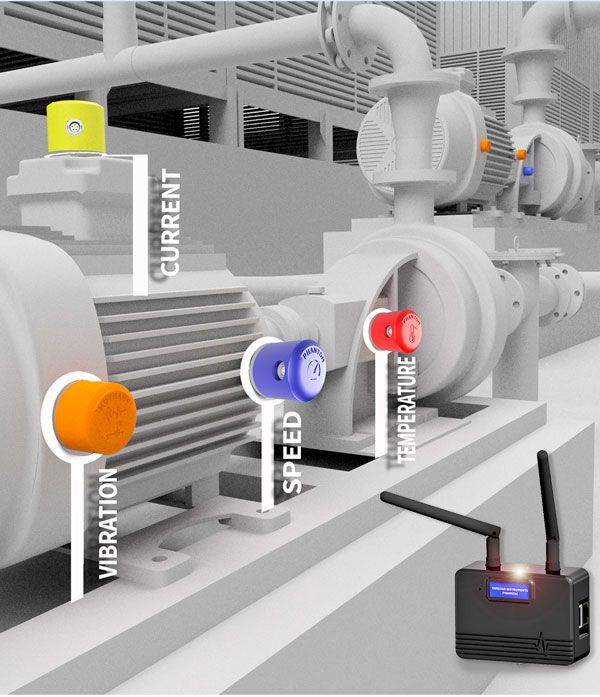 Suivi machine : Solution Phantom
Travaux réalisés
Installation des capteurs sur le réducteur
Installation du coffret de mesure
Création de la base de données client
Mise en place des seuils d'alertes et d'alarme (réception par mail)
Analyse des données chaque semaine et envoie d'un rapport d'expertise au client
Organisation de réunions mensuelles afin de restituer les mesures du mois précédent, et envisager une action de maintenance ou une prolongation de la surveillance.
Gains et bénéfices client
La sérénité pour notre client : son réducteur est sous surveillance permanente
Des comptes rendus et rapport précis concernant l'évolution de la dégradation du réducteur
Des échanges techniques et des conseils sur la maintenance du réducteur
Une organisation anticipée si un arrêt de production extraordinaire devait être planifié
Expertise
We provide you with engineering, maintenance and control solutions based on our knowledge of your processes.
Case studies
You may also be interested in