Casestudie
29 August 2023
Retrofitting of the robotics part of a nine-colour printing line
Number of project hours: 1,270 hours
Project duration: 52 weeks
10 technicians
Client expectation
A manufacturer specialising in plastic food wrapping chose to invest in a retrofitting of their nine-colour rotational printing line. The overall obsolescence of the robotics part led our client to re-think the machine system, replacing it with new equipment.
The aims were clear:
Compensate for the obsolescence of the machine equipment
Facilitate maintenance on the robotics.
DV GROUP solution 
In order to reach these objectives, we proposed our client should replace all the robots on the line in the Siemens S5 range by the S7-1500 range. This replacement also included the transfer of API programmes and the machine network communication protocol, as well as the replacement of the IHM supervisor and the IHMs on the colour groups. Consequently, the experts in our design office were busy for several weeks in order to carry out this retrofitting project and comply with the programmed immobilisation time for this machine, in other words, two weeks.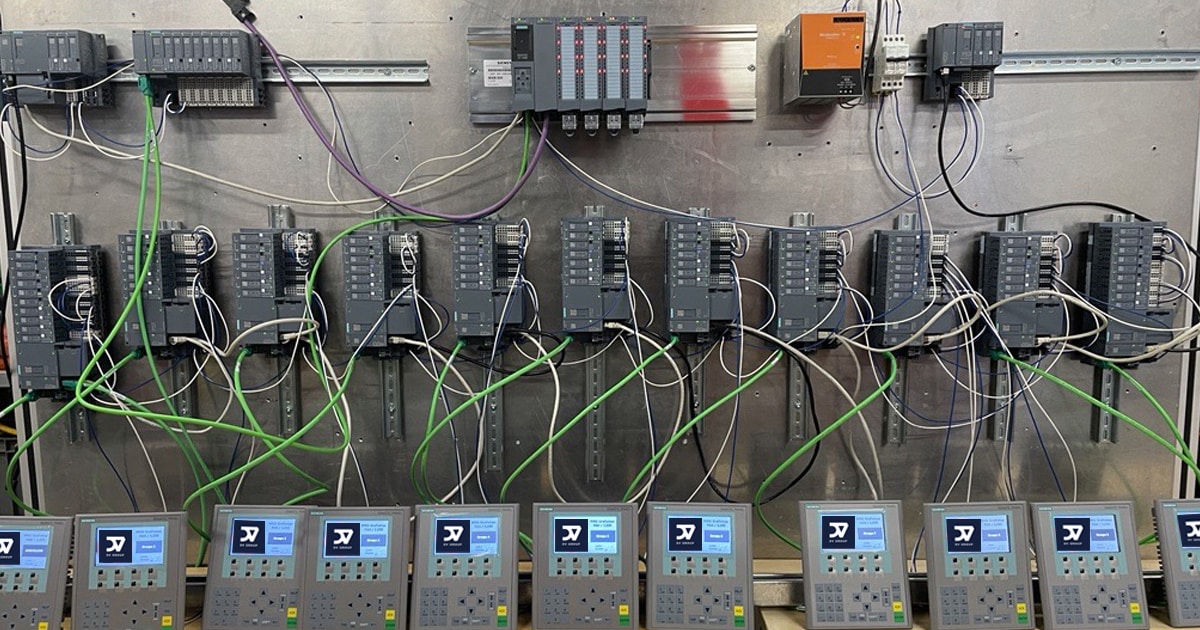 DV GROUP a procédé au rétrofit de l'ensemble des automates de la gamme Siemens S5 de la ligne par la gamme S7-1500.
Word carried out
DV GROUP technical solution:
Verification of the current equipment configuration in order to define the new one.
Full back-up of the machine
Study of communication exchanges between robots
Preparation work for the implementation of a communications gateway between the new and old equipment
Approval of the platform
Switch-over of the APIs onto the machine in several phases in order to diminish stoppage time
Conversion work on the robot and display unit programmes, drawing of electrical diagrams, supply of equipment.
Following observation of a communication problem, we decided with our client to retrofit the entire machine in one single 15-day stoppage in order to carry out the work (instead of dealing with one printing group per month over 2 stoppage days).
Full approval with acceptance of the communications platform
Carrying-out of the work
Commissioning
Production assistance.
In the end, the 10 experts in our design office finished the site and commissioning in 12 days, in other words, three days fewer than had initially been scheduled.
Clients gains and benefits 
Perpetuation of the nine-colour rotational printing line
Facilitated maintenance: machine renewed with standard Siemens products
Simplified production follow-up thanks to data feeds
Operators' support.
Expertise
Wij bieden u engineering, maintenance, en control oplossingen op basis van onze kennis van uw processen.
Praktijkvoorbeelden
Mogelijk bent u ook geïnteresseerd in