Fallstudien
05 September 2023
Overhaul of 12 Siemens Torque Simotics T-1FW3 motors
Client expectation
Our client, a manufacturer of high-range coated paper, has invested 140 million euros in order to increase production of a factory. Indeed, one of the two paper production lines will be entirely converted into a new, quicker line. Among the new features will be the addition of a sheet cutting section and the possibility of producing coated paper without wood.
Within this framework, it was essential to ensure that the motors were going to function correctly when the line was re-started. Indeed, he did not want to take the risk of one of the motors breaking down, given that the lead time for supplying a new motor is 11 weeks.
DV GROUP Solution
In order to reach this objective, he entrusted us with overhauling 12 of their motors over a 3-week period.
So, 2 types of motors were processed:
7 x 4500 N.m/140 kW motors. Weight: 1 tonne
5 x 1900 N.m/ 60 kW motors Weight: 0.6 tonne
Over a period of 3 weeks, the experts from our electromechanical agency in Saint-Augustin (Clarques) were mobilised to examine these products and meet the schedule imposed by our client.
Work carried out
The DV GROUP technical solution consisted of:
The dismounting and global decontaminating of all the constituent parts of the motors.
The classifying of each motor winding through measuring with our Baker DX4 earth-fault monitor. The test allowed us to check the balance of the intrinsic characteristics of each winder (resistances and inductance, as well as parasitic capacitance), then the polarisation index, followed by the dielectric absorption rate and, finally, the impulse response in order to check the perfect tightness of the winders when the latter are fed by variators using high cutting frequencies.
Metrological measurements of each mechanical factor used by the motors, such as the bearing seating surfaces and joints, flange bores and eccentricities of the rotating sections.
Validation of the Heidenhain ROC1313 motor encoders using our Heidenhain PWM20 measurement and monitoring tool. Replacement of any encoders showing signs of wear and tear.
Cleaning and monitoring of the liquid cooling systems. Flow test to ensure the good circulation of the liquid and pressure test in order to check the overall seal and absence of porosity.
Validation tests to check after reassembly on a test bench similar to the client's set-up. Final tests carried out on Siemens Sinamics S120 variators.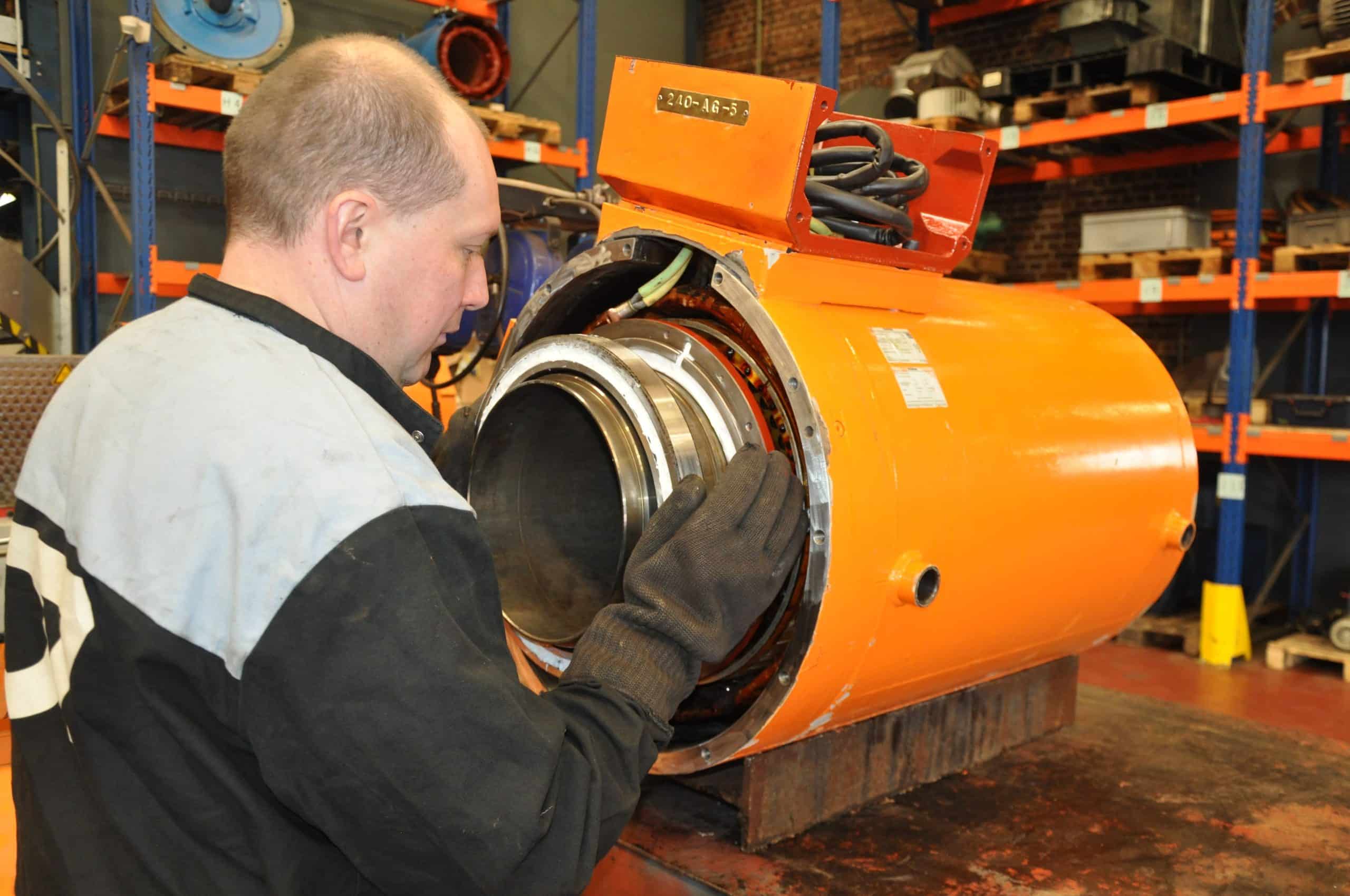 Révision des moteurs en ateliers par nos experts
Expertisen
Wir bieten Ihnen Lösungen in den Bereichen Engineering, Maintenance und Control, die mit der Kenntnis Ihrer Prozesse verbunden sind.
Fallstudien
Das könnte Sie interessieren